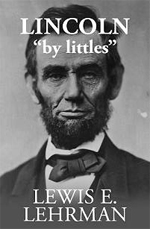 Lincoln "by littles"
by Lewis E. Lehrman
Excerpts from Lincoln "by littles":

"Abraham Lincoln seldom got the chance to go to school. He went to school "by littles," he said, and received fewer than 12 months of schooling."

"In the untrammeled interior of the mind s eye, young Lincoln followed his unrestrained desire to explore new intellectual worlds, even the world of American history, of politics, of law. There, in the frictionless world of thought and fantasy, young Abraham Lincoln found the freedom, the vocation, the solace he yearned for, unshackled from the irremediable, unrequited, hard labor of farmer and village artisan."

"Mr. Lincoln made American politics not only a struggle for personal power and prestige, but instead, a campaign of just ideas, a battle of first principles, a vindication of right-minded policy."

"The self-tutored lawyer from Illinois could not understand those 'don't care' politicians, such as Senator Stephen A. Douglas, who pretended indifference to involuntary servitude."



Lincoln at Peoria: The Turning Point
Getting Right with the Declaration of Independence
by Lewis E. Lehrman
Lincoln at Peoria: The Turning Point explains how Lincolnís speech at Peoria on October 16, 1854 was the turning point in the development of his antislavery campaign and his political career and thought. Here, Lincoln detailed his opposition to slaveryís extension and his determination to defend Americaís Founding document from those who denied that the Declaration of Independence applied to black Americans.
Students of Abraham Lincoln know the canon of his major speeches — from his Lyceum Speech of 1838 to his "Final Remarks" delivered from a White House window, days before he was murdered in 1865. Less well-known are the two extraordinary speeches given at Springfield and Peoria two weeks apart in 1854. They marked Mr. Lincolnís reentry into the politics of Illinois and, as he could not know, his preparation for the Presidency in 1861. These Lincoln addresses catapulted him into the debates over slavery which dominated Illinois and national politics for the rest of the decade. Lincoln delivered the substance of these arguments several times — certainly in Springfield on October 4, 1854, for which there are only press reports. A longer version came twelve days later in Peoria. To understand President Abraham Lincoln, one must understand the Peoria speech of October 16, 1854. It forms the foundation of his politics and principles, in the 1850s and in his Presidency.